Styles & Wood reports return to profit in 2014 calendar year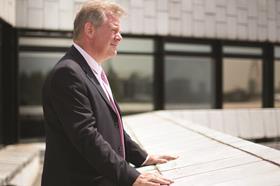 Styles & Wood returned to a pre-tax profit in the 2014 calendar year, the specialist fit-out firm has announced.
In improved full-year results, Styles & Wood posted a £579,000 pre-tax profit for last year, compared to a £515,000 pre-tax loss in 2013.
The firm said that with £1.4m of exceptional non-recurring costs stripped out - including £349,000 for restructuring and redundancy costs - the firm achieved underlying pre-tax profit of £2.1m in 2014, up 200% from £0.7m underlying pre-tax profit the previous year.
Group revenue was up 3.2% to £97m for 2014. Styles & Wood's order book hit £103m this May, the firm said, significantly up on the same point last year.
Tony Lenehan (pictured), chief executive of Styles & Wood, said: "The anticipated improvement in trading for the second half of 2014 has realised a significant increase in underlying profit before tax to £2.1m, in line with management expectations."
The group disclosed that its contracting services, projects and renewables business, which during the year had won the £9m contract for the refurbishment of Lancaster University's library, was down £4.4m to £32.7m for the year end.
Its professional services business, incorporating building intelligence, design and frameworks, however, was up £7.4m to £64.3m for 2014.
London and Dubai were showing significant scope for growth for the company, particularly with Dubai hosting the 2020 Expo causing demand for fit out, the firm said.
The firm has just completed the full refurbishment of a 200 bedroom hotel for Emaar.
The company has also established a dedicated team in London to focus on the burgeoning refurbishment sector and added that they had secured significant framework allocation to anchor their business interest in the capital.
The property support services market in interior fit-out and refurbishment is now forecast to recover to 2008 levels by 2017 and the corresponding annual growth rate from 2014 to 2018 is anticipated to be in the region of 4-5%.