Builders catch-up on winter work but outlook remains subdued despite 14-month high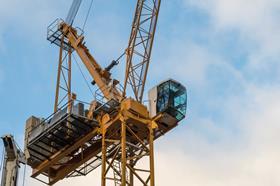 Construction output grew sharply in July as good weather and rising demand saw new project starts soar, according to the lates CIPS/IHS Markit data.
Activity grew at the fastest rate since May 2017, with glorious weather allowing firms to catch up on work delayed by the Beast for the East. The Purchasing Managers' Index rose to 55.8 last month, up considerably from 53.1 in June.
July was particularly busy for housebuilders, with the fastest increase in residential output for two-and-a-half years suggesting government's commitment to increasing supply of homes is continuing to stimulate demand.
But the report said supply chain pressures continued last month, with expanding business activity leading to a lengthening of delivery times for construction products and materials.
The civil engineering sub-sector also experienced only moderate expansion, with companies reporting a lack of work to replace completed projects – particularly on railway infrastructure – continuing to fetter growth.
Business optimism for the year ahead also showed no uptick and still lags behind the long-term average as Brexit-related uncertainty hangs over firms.
Blane Perrotton, managing director of consultancy Naismiths, noted that "residential has ridden to the rescue again," but said: "The unwelcome side effect of this mini-recovery is additional pressure on the supply chain. Increasingly frenzied competition for workers is driving up wages while the weak pound is keeping imported material costs high."
"Construction is more reliant on business confidence than almost any other sector – and these impressive gains could be reversed if Britain's exit from the EU is messy or inconclusive."
Sue Kershaw, managing director of major project advisory at KPMG, agreed there were still issues for the industry, saying: "Supply chain and cost pressures still remain a cause for concern. We're seeing input costs continue to creep up and the outcome of Brexit negotiations is still far from clear. Those with infrastructure arms will also be concerned about the sluggish-looking civil engineering market, traditionally quite a reliable source of activity."
The results follow a prediction by the CPA last week that annual construction output would contract by 0.6% in 2018, following a dreadful first quarter dogged by harsh weather and the collapse of Carillion.