Activity boosted by booming housing sector as purchasing managers' survey hits record high
A rapid return of new business across construction has been confirmed with record new orders being reported by purchasing managers, as materials prices continue to soar.
Construction companies attributed the surge in order books to strong demand for residential building work and high levels of confidence about the near-term economic outlook.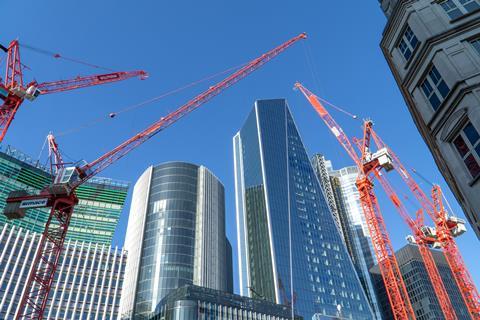 Housing was the strongest performing sector while commercial increased at its fastest rate since August 2007.
The latest IHS Markit/CIPS UK construction PMI survey showed 47% of respondents reporting higher volumes of new work.
Overall, the update has revealed a fourth straight month of growth activity for the sector, with the PMI activity index jumping to 64.2 in May, up from 61.6 in April.
Mirroring order book growth, the overall rate of input price inflation was the highest in the survey's 24 years of data collection.
The survey found that stretched supply chains and steep rises in raw material prices had contributed to a rapid increase in average cost burdens.
Suppliers' delivery times also lengthened sharply in May, with the downturn in vendor performance the second-steepest since the survey began, exceeded only by that seen in April 2020 at the start of the pandemic.
Some firms also noted that the volume of materials purchases had been boosted by efforts to build inventories in response to well-publicised materials shortages.
Tim Moore, economics director at IHS Markit, said: "Despite severe challenges with materials availability, construction firms remain highly upbeat about their near term growth prospects."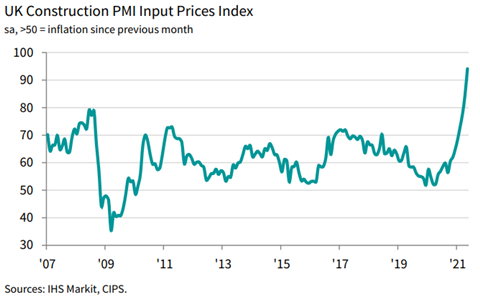 Duncan Brock, group director at the Chartered Institute of Procurement & Supply, said: "Busy purchasing managers were under pressure to keep up and buying up at the fastest rate since April 1997, changing sourcing strategies to find depleting essential materials and stocking up just as supply chain problems continued to mount along with prices.
"With inflation for goods and raw materials at a 24-year high, companies will be concerned that much-needed profits will be eaten away as building projects take shape and could be held up by some of the longest delivery times on record."
The housing sector was the strongest performer for the month of May, with its index score increasing from 61.2 in April to 66.3.
This was followed by commercial work at 64.4, up from 62.2, with the latest increase in work on commercial projects the steepest since August 2007, reflecting strong demand conditions following the reopening of much of the UK.
Civil engineering activity also increased sharply during May, with the index sitting at 61.3 although the pace of expansion eased slightly since the previous month when it was 61.5.
Fraser Johns, finance director at Beard, said while the headline figures tell a good story about the construction sector's recovery, there has to be consideration of the potential impact of the ongoing covid crisis on the industry's recovery.
He said: "Confidence is returning to the economy and customers are forging ahead with plans that have been put on hold, our own head of work reflects the buoyancy of the market in that sense.
"But in order to keep confidence high, contractors must work smart and take a collaborative approach with suppliers and customers, to mitigate for the long lead-in times. Strong relationships with suppliers all the way down the line are going to be crucial to get through what is likely to be a difficult second half of the year in terms of the materials issue."