Cases filed at High Court last month
Thirteen civil court cases against 22 firms and organisations have been launched by Grenfell Tower survivors and relatives of the victims.
The cases were filed at the High Court in London last month following the June 2017 blaze, which claimed the lives of 72 people.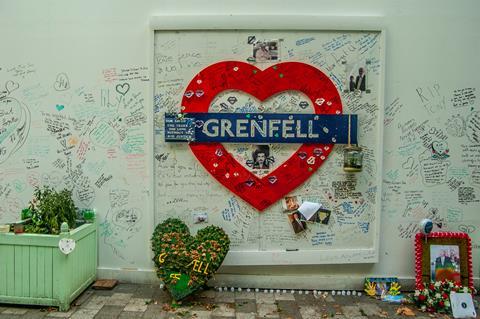 The Royal Borough of Kensington and Chelsea and the Tenant Management Organisation (TMO) for the tower have been named as being among the series of defendants.
Others who have had claims filed against them include materials suppliers Kingspan, Arconic and Celotex as well main contractor on the refurbishment, Rydon, subcontractor Harley Facades and project architect Studio E.
The Home Office and housing ministry have also been listed.
> Grenfell Inquiry: Who did what?
Meanwhile, the council and TMO have filed separate claims against Arconic and domestic appliance company Whirlpool – the US manufacturer of the Hotpoint fridge-freezer which is understood to have sparked the blaze. The claim against Whirlpool has been made against its Polish arm.
Arconic made the polyethylene-filled aluminium composite panels that were the main cause of the spread of the fire.
The council and TMO lodged their claims just before Christmas.
The ongoing Grenfell Inquiry, which was forced into an early Christmas break by one of the team testing positive for covid, is due to resume next month after the current lockdown delayed its resumption last week.