Housing association says combustibles ban prompted decision to move to steel system for offsite homes
One of the leading exponents of modular housebuilding based on cross-laminated timber technology is to move to using steel-framed systems for its planned apartment buildings.
London and South-east housing association Swan, which set up a 400-homes-a-year modular housebuilding factory in 2017 to deliver its 3,500-home development pipeline, said the decision to switch to steel followed the government's ban on combustible materials in the external walls of homes more than 18m in height.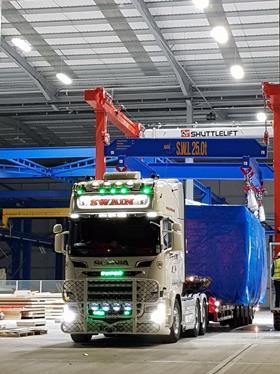 The decision comes after fellow modular housing pioneer, L&G Modular Homes, said late last year that it will also use steel-frame technology for apartment buildings.
Critics of the government's combustibles ban, introduced in the wake of the Grenfell Tower disaster, predicted the legislation would turn the UK from a world-leader in cross-laminated timber (CLT) into a "backwater".
CLT is a structural timber product with the ability to make very tall timber buildings, which proponents say are cheaper and much more environmentally friendly than concrete and steel alternatives.
A spokesperson for Swan told Building's sister title Housing Today that its choice of CLT, based on design flexibility, environmental sustainability, energy efficiency, fire and acoustic performance remained compelling.
But it said its decision to use an offsite modular system was not based just on the advantages of CLT but on the advantage from offsite manufacture more broadly.
"We have a significant future pipeline of development, including major projects in Purfleet and Southend-on-Sea, which will include buildings over 18m high and so, for these, we are exploring a steel-framed alternative approach."
It said it would continue to use CLT for buildings of less than 18m, of which it has 700 in the pipeline and that the switch to steel would not mean it had to write off any of its £3m investment in the factory.
Swan has used the CLT system for its Beechwood Village regeneration in Basildon, Essex, and is currently on-site completing a mid-rise CLT apartment scheme at Watts Grove in Tower Hamlets, east London.
In November, Swan announced it had appointed a new modular housing managing director, Bill Marsh, to replace former managing director Paul Williamson.
The spokesperson also defended CLT's performance in fires, saying it still believed the material to be safe. She said the post-Grenfell combustibles ban was "rightly intended to improve safety", while pointing out the fact that timber played no part in the blaze.
She added: "As an industry, we welcome any change that would reduce fire and/or loss of life; however, we believe CLT is an inherently safe building material."
Lendlease announced early last year it was ending its programme of CLT apartments in the UK, with L&G following suit in December. When the combustibles ban was first announced, Anthony Thistleton, founder of CLT specialist architect Waugh Thistleton, said it could prompt a collapse of CLT use in the UK, taking the country from "a world-leader to a backwater".