There have been 1,800 homes proposed for the Great Stall East project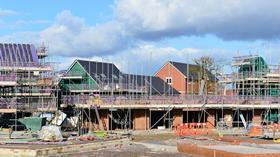 Capital Land Property Group has submitted a planning application for an 1,800-home development as part of Swindon Council's New Eastern Villages (NEV) scheme.
Affordable homes are part of the package proposed for the 86ha Great Stall East project. The plans also include provisions for including land for a both secondary school with sixth form and a primary school.
The proposal also features a sports hub, open space and parks, as well as a local centre that will provide a variety of shops, cafes and community uses.There will also be access from the A420 which runs between Bristol and Oxford.
The broader proposal for Swindon's NEV outlines an 8,000-home urban expansion scheme to the south east of Swindon, which Capital Land claims would be one of the largest urban expansions in the UK.