Electrical contractor picks up a couple of school jobs from Airedale M&E and Rotary Scotland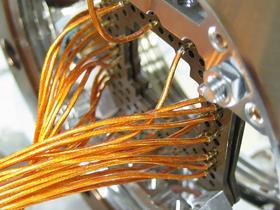 T Clarke has picked up a couple of school jobs from Airedale M&E and Rotary Scotland, following the recent collapse of the firms, in moves the electrical contractor hopes will help it through challenging economic conditions.
T Clarke said it had picked up the Dixons Allerton Academy, in Bradford, from Airedale M&E, with the job understood to be worth £10m, after Airedale fell into administration last month.
The firm said it had also taken on the West Linton Primary School job, in Scotland, understood to be worth £6.5m, after Rotary Scotland was placed into administration this month.
The contract wins came as a boost to the firm, after it announced this week that pre-tax profit fell by two-thirds in the first six months of the year to just £500k, after it was hit by the continuing weak market for M&E firms.
Pre-tax profit was down from £1.4m in the same period on 2011, on revenues of £90.7m – down 2% on the previous year.
Chairman Russell Race said the six months to 30 June 2012 had been "marked by a lack of confidence across the sector" and had "unsurprisingly" seen slower trading than had been hoped, and pressure on margins.
It added that its core markets would continue to face material margin pressure and that it could not promise an increase in profit margins until there was a "rebound in confidence".
The last six months has seen a number of major M&E firms fall into administration, including MJN Colston and Airedale M&E, while this week administrator FTI Consulting said three divisions of Rotary Group - Rotary Services (NI), Rotary Scotland and Rotary Northern, in Newcastle – had folded, with the loss of 146 jobs.
But the administrator said 4th Utility Ltd, a subsidiary of engineer Lorne Stewart, had acquired four other Rotary UK businesses - Rotary North West, Rotary Yorkshire, Rotary Southern and Midlands-based division Sothers Holdings – saving 391 jobs.
Rotary has been under threat since its Australian parent company Hastie – which bought the firm for £100m four years ago – collapsed in May.