Building services contractor reports margin of just 1% in the first six months of the year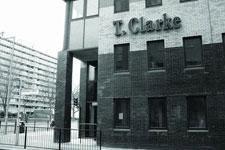 Building services contractor T Clarke has reported a 20% dip in profit over the last six months despite a rise in revenue.
In a statement to the City, the firm reported an underlying operating profit, which excluded finance and restructuring costs, of £1.2m in the six months to 30 June 2013, down from £1.5m over the same period last year.
However, revenue rose to £114.7m from £90.7m over the period. The firm's underlying operating profit margin fell to 1% from 1.7%.
Chief executive Mark Lawrence remained upbeat and said the firm had "good visibility of workload" with projects extending into 2015.
He added: "Competition remains fierce, yet we remain focused on choosing carefully which projects we tender for.
"Looking forward, there are signs of increased client activity especially in London, although this has yet to translate into improved margins."
The firm has secured work on a number of major projects over the last six months including upgrade of the Bank underground station, work on Queen Elizabeth II hospital in Hertfordshire and a contract on a commercial office space in Mark Lane in London.
The firms Northern division performed most strongly reporting a rise in underlying operating profit to £1m from £893,000 over the period despite a £2.3m fall in revenue.
But the T Clarke's Southern division, its largest, suffered from a squeeze on margins. It reported an underlying operating profit of just £20,000 down from £617,000 despite a 36% rise in revenue to £91m over the period.
The firm's Scottish division returned to profit reporting an underlying operating profit of £2,000 up from a loss of £108,000 in the six months to 30 June 2012.