Schipol airport is to build a new terminal and pier to accommodate growth in passenger numbers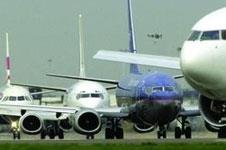 Turner & Townsend (T&T) has landed a cost management role on a major expansion of Amsterdam's Schiphol airport.
The airport is building a new terminal and pier allowing it to serve an additional 14 million passengers a year, on top of the 59 million it already serves.
T&T won the contract in joint venture with construction costs expert IGG.
Completion of the scheme is planned for 2023 with the new pier ready for use by the end of 2019.
T&T associate director Astrid Boumans-Bakker said: "We're delighted to be working alongside IGG on such an important airport expansion programme that meets the long-term capacity growth for Schiphol.
Gerard Geurtjens, area project director for Schiphol airport, said: "IGG / Turner & Townsend was the strongest bidder and we're reassured by the consultancy's reputation working on some of world's largest aviation projects."
"Amsterdam Airport Schiphol needs additional space in order to accommodate and facilitate the growth in both the number of passengers and air transport movements."
"With the development of a new pier and terminal, Schiphol is investing in the capacity and quality of Mainport Schiphol, as well as strengthening the airport's international competitive position."