New railway will be 1,700km long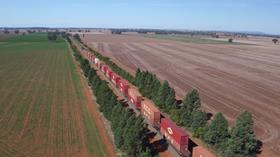 Turner & Townsend has been chosen to manage a A$10bn freight railway scheme in Australia.
The Australian Rail Track Corporation has appointed the consultant to oversee the Inland Rail project which will be over 1,700km long when completed.
Inland Rail chief executive Richard Wankmuller said Turner & Townsend will be supported by SNC-Lavalin, owner of Atkins, to carry out the role which is known as the project management office.
He said: "The PMO [project management office] will assist us to develop robust and comprehensive approaches to project governance, assurance, project controls and reporting, as well as fine tune some of our existing processes, augment our current team, and help accelerate delivery of the overall Inland Rail Programme."
The route is set to run from Melbourne in the country's south-east to Brisbane on the eastern seaboard.