Consultant says demand for products such as timber and structural steel will send tender prices heading north
Rising material costs because of increasing global demand and raw material shortages threaten to ramp up tender prices later this year, Turner & Townsend has warned.
Stockpiling, post-Brexit customs checks and a reduced availability of freight containers are all contributing to rising costs, the consultant said in its spring market intelligence report.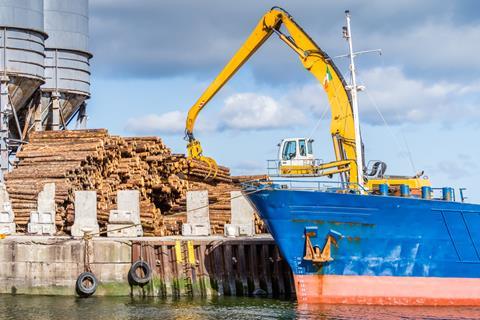 Prices for imported sawn wood have increased by 30%, according to Department of Business Energy and Industrial Strategy's (BEIS) figures covering the period from February 2020 to January 2021.
Gravel, sand, clays and kaolin along with imported plywood have seen the next sharpest rises over the same period, at close to 20%.
T&T said the price of materials and a recovering construction sector, which has seen confidence grow markedly in the past three months as the UK's vaccine rollout continues and lockdown measures begin to be eased, threaten to send tender prices north.
Yesterday's IHS Markit/CIPS survey put construction output at 61.7 last month, the highest figure for more than six years.
And work resuming on delayed office and hospitality schemes sent the score for the hard-hit commercial sector soaring to 62.7 with business confidence in construction being at its most optimistic since June 2015.
T&T said government infrastructure spending will lead to a 1.5% increase in infrastructure tender prices this year, up from 1% in 2020, although for real estate tender prices, the firm expects zero inflation, a recovery from -2%, which it said was because of a lack of new orders.
But there are growing concerns that materials price rises and shortages will put the brakes on construction's recovery with the Construction Leadership Council this week warning that the shortages are likely to get worse before they get better this year and advised firms to plan for longer delays.
It said timber imports will be an issue for the "foreseeable future" adding that steel, plastics, cement and aggregates were also among materials seeing problems.
Yesterday's IHS/CIPS survey found firms are having to wait longer for materials with 41% reporting longer delivery times from suppliers in March, while only 1% saw an improvement. And costs have gone up by their sharpest since August 2008 with firms citing Brexit and the pandemic for the hike.
Duncan Brock, group director at the Chartered Institute of Procurement & Supply, called the rise in prices "a spanner in the works" and admitted: "Almost half of the survey respondents said they had experienced longer delays and higher costs. If this continues, it could easily cool the sector down a notch."
This week's warning from the CLC said the issues will continue for at least the next two to three months with other countries prepared to pay more than the UK to get hold of those products, such as timber, in short supply.