Housebuilder expecting £820m operating profit
Taylor Wimpey said it is on track to hit previously forecast profit expectations for the year as house price inflation offsets increases to build costs.
The housebuilder, in a trading update published yesterday, said it is set to achieve operating profit of £820m for the year, as it forecast in its half-yearly update earlier this year.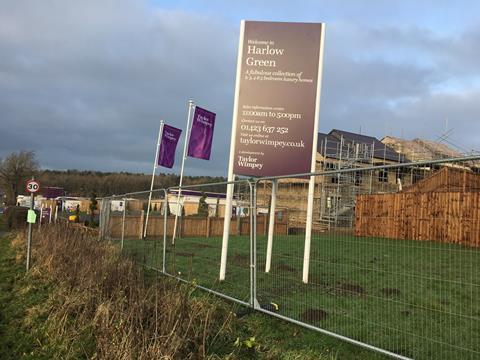 It also said its completions for the year will be at the 'upper end' of its guidance range of 13,200 to 14,000 homes.
Pete Redfern, chief executive of Taylor Wimpey said the industry had experienced pressures on the cost and availability of certain materials and shortage of drivers for haulage but was expecting the situation to gradually improve.
He added: "Despite well-publicised industry supply chain pressures, we are managing our supply chain effectively and are benefiting from our scale and strong partner relationships. We continue to see house price inflation fully offsetting build cost inflation."
Taylor Wimpey said it achieved a sales rate of 0.91 homes per outlet in the second half of the year to date, higher than the 0.76 achieved for the same period last year but lower than the pre-pandemic figure of 0.93.
The firm will release its 2021 results at the beginning of next March.