Chief executive Peter Redfern says it will submit plans before Christmas for Chobham Manor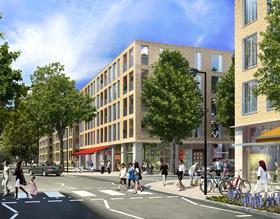 Housebuilder Taylor Wimpey is to submit a detailed planning application before Christmas for the 800-home Chobham Manor development, the first to be built on the Olympic Park after the games.
Taylor Wimpey chief executive Peter Redfern told Building the planning application, to deal with reserve matters on the existing outline permission, would be submitted before the end of the year, with the aim to have the first homes sold by early 2014.
Taylor Wimpey, alongside housing association partner L&Q, was revealed last week as the winner of the bid to take on the Chobham Manor site from the London Legacy Development Corporation, the first of five areas to be developed in the Olympic Park after the Games.
The housebuilder is working with a range of architects on the development, which will be centred around three new "London squares", including Make, PRP, Muf, Nord, Karakusevic Carson. The development will span the area between the existing athletes' village and the Velodrome, with houses ranging from blocks up to seven or eight stories high next to the athletes' village, to traditional semi-detached housing closer to the velodrome.
Redfern said: "We'll be submitting one detailed application for the site, probably at the back end of this year. We have access to the site about 12 months from now and are looking to build and sell early in 2014."
Taylor Wimpey is yet to sign a final contract with the Legacy Corporation, but Redfern said the deal is set to see it buy the site from the Corporation at a reduced rate, but subsequently share profits on the sale of homes.