Contractor wins job to build a depot for the Crossrail train fleet at Old Oak Common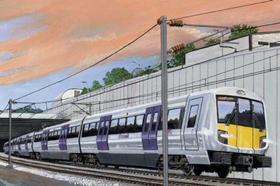 Taylor Woodrow has been awarded a £142m contract by train manufacturer Bombardier Transport UK Ltd to design and construct a depot for the Crossrail train fleet at Old Oak Common, West London.
The eight-road facility will be able to accommodate up to 33 trains while routine maintenance is carried out.
Taylor Woodrow is an arm of construction group Vinci.
A hybrid renewable energy system comprising photovoltaic cells and solar heated water will generate and store energy at the depot. Ground source heat pumps will control heating and cooling, originating from a combined heat and power plant.
Project manager James Mendis commented: "The award of this important contract is the latest stage of Taylor Woodrow's extensive involvement with Crossrail. Our role at Old Oak Common will allow us to demonstrate our extensive capabilities in delivering railway infrastructure projects. "
Bombardier's contract with Transport for London covers the supply, delivery and maintenance of 65 new 200m-long trains for Crossrail project.