Housebuilder sells another scheme to a PRS developer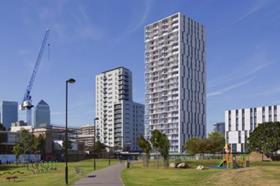 Telford Homes has sold its second scheme to a PRS developer, with the sale of its east London scheme at Carmen Street to investor M&G Real Estate.
Telford only bought the Carmen Street scheme (pictured) from Ballymore in November.
The sale, for an undisclosed sum, comes after Telford sold its 156-home Pavilions scheme in north London to housing association L&Q for £67m in February.
The Carmen Street development has full planning permission to include a 22-storey tower and 206 new homes. Telford said the 56 subsidised affordable homes will be sold by Telford Homes in a separate transaction to a housing association. The development is anticipated to be completed in 2019.
Jon Di-Stefano, chief executive of Telford Homes, said: "Forward funded PRS transactions offer strong returns and we are very pleased to have swiftly secured our second sale in the sector just a few months after the first."
Alex Greaves, head of residential investment at M&G Real Estate, said: "This partnership with Telford Homes marks a significant point in the evolution of our residential investment strategy.
"We have now invested in over 1200 units on behalf of UK and international institutional investors, including pension funds, insurance companies and local authorities."