Firm will help US real estate firm Greystar secure planning permission at Battersea site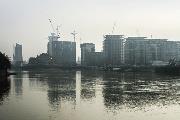 Telford Homes has signed a deal with build to rent investor firm Greystar to deliver 894 build to rent homes at Nine Elms in Battersea.
The housebuilder will assist in acquiring detailed planning approval for the London borough site where US-based Greystar has exchanged contracts to acquire two plots of land totalling 2.67 acres from Royal Mail for £101m in cash.
The new development is in walking distance from the two new underground stations which will be built as part of the Northern Line Extension and the new US Embassy.
Subject to planning approval, Telford Homes will enter a full design and build contract with Greystar to deliver the scheme for a fixed price.
Jon Di-Stefano, chief executive of Telford Homes, said: "Telford Homes is becoming established as a significant developer of build to rent housing in London. This increasing reputation is helping the Group to secure major opportunities such as this and we are looking forward to assisting Greystar and building a strong partnership with them.
"This development will represent a substantial increase in the group's build to rent portfolio alongside existing schemes with M&G Real Estate, L&Q and Folio London, part of Notting Hill Housing Group."
Mark Allnutt, managing director Multifamily, Greystar added: "This will be without question central London's most exciting rental community. There's nothing comparable in the UK in terms of scale and resident amenity.
"We believe that London is finally ready for a five-star rental experience and we're proud to be bringing this to Nine Elms in partnership with Telford Homes, a housebuilder synonymous with quality."