Rumours first surfaced last week that engineer's days in charge of HS2 and Crossrail were numbered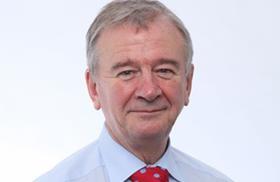 Sir Terry Morgan has officially been ousted from his roles at both Crossrail and HS2 days after reports leaked to the media revealed transport secretary Chris Grayling and chancellor Philip Hammond had been lobbying for his removal.
Announcing his departure, the government said: "The transport secretary and mayor of London have today (5 December) accepted the resignation of Sir Terry Morgan as chairman of Crossrail Ltd. The transport secretary has also accepted his resignation as chairman of HS2."
Morgan (pictured), who joined HS2 as chair in July, was chairman of Crossrail Ltd for almost a decade, guiding the project through construction towards completion.
At the same time the government has announced it had lined up Allan Cook, who was the chairman of Atkins between 2009 and 2017, as the new chair of HS2 Ltd, while Morgan's successor at Crossrail is yet to be named.
Transport secretary Chris Grayling, who praised Morgan for his "world-class leadership" when appointing him to the HS2 job just four months ago, said: "Sir Terry has been an integral part of Crossrail for almost a decade and I would like to thank him for his dedication and the expertise he brought to the role. I am also grateful to him for his work as chair of HS2 Ltd.
"HS2 is the country's biggest infrastructure project and, with his wealth of experience, Allan Cook is the right person to oversee the project as it progresses towards full construction."
When he appointed Morgan in July, Grayling said: "His wealth of experience and expertise, demonstrated in numerous leading roles including overseeing the ambitious Crossrail project, as well as his respected reputation and enthusiasm, will be invaluable in the project's continued success."
But Crossrail has since been hit by cost overruns and news that it will be up to a year late with Morgan admitting last weekend: "I can only presume, as I have not yet been told, that because HS2 is such a critically important programme and with a sense of disappointment around the performance of Crossrail that it was considered to be too risky for a programme like HS2 to continue in my role as chairman."
In addition to his role at Atkins, Cook, who is a chartered engineer, is a former lead non-executive director for the then-Department of Business, Innovation and Skills under the coalition government and served as the chief executive of manufacturing company Cobham from 2000 to 2009.