Stanhope JV behind RSHP plans for new library building
Transport for London and the British Library are set to sign off a deal that will allow plans for a £400m development to push ahead.
Stanhope is hoping to submit plans for the new British Library building designed by Rogers Stirk Harbour + Partners this year.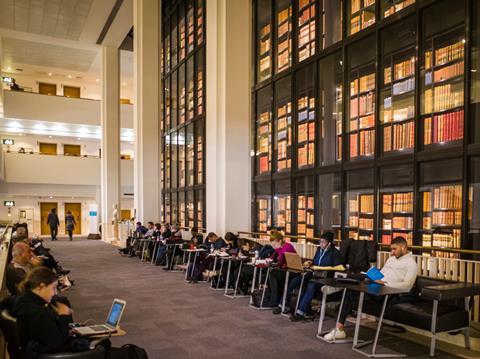 The development team will be responsible for works needed for Crossrail 2
The firm and Japanese developer Mitsui Fudosan, which owns a one-third stake in Stanhope, signed a deal with the library to develop the 700,000 ft² scheme in 2019, while RSHP won the job two years ago.
The job has been held up by plans to build a new station for the proposed Crossrail 2 line underneath the plot but new papers from TfL have revealed the parties have now reached a deal.
The site is required by Crossrail 2 to provide a ventilation shaft, emergency and maintenance shaft and pedestrian passageway for the proposed Euston-St Pancras Station on the Crossrail 2 line.
> Stanhope's Paul Lewis and Tony Wall talk to Building
In documents published ahead of today's (20 July) meeting of the programmes and investments committee, TfL said it would be signing an agreement with the British Library this month.
It said: "Under the agreement, SMBL [Stanhope/Mitsui Fudoson/British Library] would deliver the civils works required within the development site for the Crossrail 2 shaft and passageway.
"TfL would carry out the fit-out works for the shaft and passageway at a later date from an agreed worksite within the development."
The papers said that in return, TfL would not object to the British Library's planning application.
The TfL Crossrail 2 team estimated that the early delivery of the Crossrail 2 works on the safeguarded land would allow the developers to benefit from the project considerably earlier than would have been possible otherwise and the only way for both projects to be delivered efficiently.
It said: "If the Crossrail 2 works were not delivered as part of the SMBL development, then Crossrail 2 would either have to forgo a Euston-St Pancras station serving St Pancras or demolish part of the development to carry out the works at a later stage.
"This would result in significant additional cost and reputational impact, as it is not possible to retrofit a passageway and shaft and there are no other suitable alternative sites in the area."
The public papers did not reveal what the cost of the works would be for either party.
Work on the new library will involve putting up a new building at a site between the existing grade I-listed structure and the Francis Crick Institute near King's Cross station. QS on the deal is Alinea while Arup is engineer.
Last year Stanhope construction director Tony Wall told Building t was looking at sending in plans to Camden council this year and put a £400m construction price tag on the project.