Developers picked for 400-home scheme in Kidbrooke, south London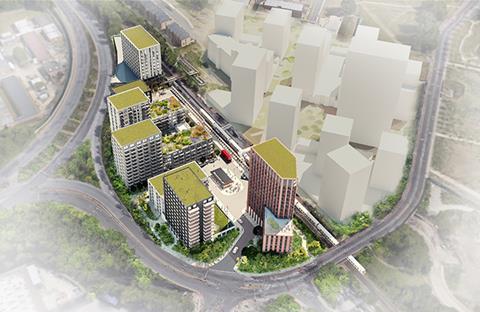 A consortium between Notting Hill housing association and developer U+I has been named preferred bidder on a 400-home site in Kidbrooke, south London.
The scheme is the first to be awarded under Transport for London's 13-strong property partnership framework, which also includes firms including Balfour Beatty and Land Securities.
TfL ulitmately plans to redevelop at least 300 acres of land it owns across the capital using the £3.6bn framework.
The Kidbrooke consortium, Triangle London Developments, said half of the homes on the four-acre site will be affordable.
The site was previously part of an RAF base. It will also become home to some commercial, retail and office space and a village square.
The joint venture is aiming to start on site by 2018, subject to planning approval, with the first homes available to buy and rent by 2020.
The scheme will be built adjacent to Berkeley's huge £1bn, 4,500-home under-development Kidbrooke Village.
Kidbrooke was the first in a series of TfL sites to be released for development last year, alongside Landmark Court in Southwark and Fenwick South in Lambeth.
James Murray, deputy mayor for housing and residential development, said: "The Mayor is determined to fast-track more public land for development and to ensure at least half the new homes across TfL's portfolio of sites will be genuinely affordable.
Graeme Craig, commercial development director for TfL said: "Naming our preferred bidder is an important step forward in transforming this long-vacant site. We were delighted with the quality of design proposed by Triangle London Development, and are excited about working with them to create a thriving, vibrant place to live and work.
"This is the first of dozens of sites across London that we expect to bring forward in joint venture using our Property Partnerships Framework, and it is a great place to start."
Kate Davies, from Triangle London Developments said, "It is a great honour for Triangle London to be selected as TfL's preferred partner for Kidbrooke, the first site awarded through the Property Partnerships Framework. The framework is a fantastic way of addressing the desperate need for more homes in London, and we are looking forward to partnering with TfL to deliver a great new community with much needed affordable housing."