The contract is set to run for at least four years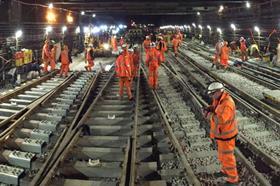 Transport for London has started the search for a contractor for a £250m track renewal job.
The four-year contract is for the implementation of a delivery partner to support TfL in track renewals starting in early 2019. The chosen contractor will integrate into TfL's track programme team.
The contract includes the provision of all necessary labour, plant, equipment, materials and specialist subcontractors.
There is an option for the contract to be extended by a further six years.
Firm have until 19 June, just seven days, to register their interest in the job.
Invitations to tender will then be sent out to a shortlist of no more than five companies on 6 August.