PM's pledge comes a day before the Hackitt Report is delivered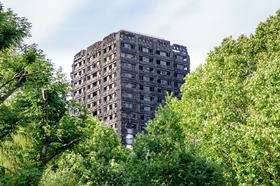 Theresa May has pledged £400m of government funds to cover costs associated with removing cladding from more than 150 high-rise buildings.
The money will be handed to councils and housing associations facing big repair costs following the Grenfell tragedy last June.
May said the fire, which claimed 72 lives, was an "unimaginable tragedy and we cannot let it happen again".
Fire services have carried out inspections at 1,250 high-rise buildings. They identified 158 where cladding should be stripped off.
Work is under way at 104 blocks.
May told MPs during this lunchtime's prime minister's questions: "Our thoughts as we approach the anniversary of the appalling tragedy that was the Grenfell tower fire are with the victims and survivors and all those affected.
"On the issue of the safety of buildings, the fire and rescue services have visited over 1,250 high rise buildings. Immediate action has been taken to ensure the safety of every resident.
"Councils and housing associations must remove dangerous cladding quickly but paying for these works must not undermine their ability to do important maintenance and repair work.
"I have worked closely with the chancellor and housing secretary and today can confirm the government will fully fund the removal and replacement of dangerous cladding by councils and housing associations, estimated at £400m."
May's pledge comes a day before Dame Judith Hackitt's report into building safety is released.
The report, which was commissioned in the wake of Grenfell, is set to be delivered tomorrow morning.
Meanwhile, new housing secretary James Brokenshire has updated parliament on the investigation into fire door safety.
The investigation was launched after Metropolitan Police revealed a fire door installed at Grenfell Tower designed to resist fire for up to 30 minutes – as required by building regulations guidance – failed after approximately 15 minutes when tested by the police.
The review has concluded there is a performance issue with the Manse Masterdor fire doors, which do not consistently meet the 30 minute fire resistance standard.
But the National Fire Chiefs Council has advised the panel running the investigation that the safety risk remains low as fire protection in a building is developed using a range of measures so a failure of one protection measure – such as fire doors – should not significantly change the overall safety of residents.
The Ministry of Housing, Communities and Local Government is writing to customers of Manse Masterdor identified in the company's records as having been supplied with these doors to provide advice on how quickly these doors should be replaced.