Ucatt announces new legal action against major contractors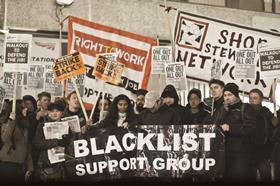 A third High Court blacklisting claim is to be made after construction union Ucatt launched legal proceedings against a number of major contractors.
In a statement released today, Ucatt said it had employed QC Mark Warby to handle the case and had announced the action to coincide with today's TUC anti-blacklisting day of action.
The said it is targeting firms "including" Skanska, Balfour Beatty, Bam, Costain, Carillion, Laing O'Rourke, Sir Robert McAlpine, CB&I and Vinci plus "an individual who held the position of chair of the Consulting Association (TCA) and was a senior HR manager for a major blacklisting company", whom it refused to name.
All of these firms apart from Bam and CB&I are part of a new industry compensation scheme for victims of blacklisting and all were companies which used TCA, the blacklisting firm which was exposed and shut down in 2009.
There are already two High Court cases on behalf of blacklisting victims, one handled by solicitor Guney Clark & Ryan and the other by the GMB union.
Ucatt general secretary Steve Murphy, said: "Blacklisting companies wilfully destroyed the lives of ordinary construction workers and acted as though they were above the law. Our legal action will ensure that the victims receive the justice they deserve."
During today's Day of Action against blacklisting, Ucatt is holding demonstrations outside of construction sites and offices operated by Sir Robert McAlpine, the contractor which supplied the first and last chairman of TCA and was the largest user of TCA from 1996-7 until the organisation was closed in 2009.
Ucatt said it would be leading demonstrations at Sir Robert McAlpine's premises in Birmingham, Cardiff, Glasgow, Hemel Hempstead, London, Leeds, Manchester and Newcastle.
A spokesperson for Sir Robert McAlpine said it had never operated a blacklist, was committed to maintaining good relationships with its workforce and to "responsible trade unionism".
The spokesperson added: "We recognise and respect the rights of workers to observe a day of action.
"We have apologised for our involvement with TCA and the impact that its records may have had on any individual worker."
Referring to the compensation scheme, the spokesperson said: "The scheme members are currently in a period of consultation with Ucatt, other workers' representatives and key stakeholders including the Blacklist Support Group and potential claimants' legal representatives."
A spokesperson for Laing O'Rourke said: "We are aware of the proposed Ucatt litigation and await further correspondence from their legal representatives. Until then, it would not be appropriate to make any further comment on this specific issue."
All the other contractors have been contacted for comment.