Exclusive: Three contractors have been shortlisted for Education Funding Agency's first batch of private finance schools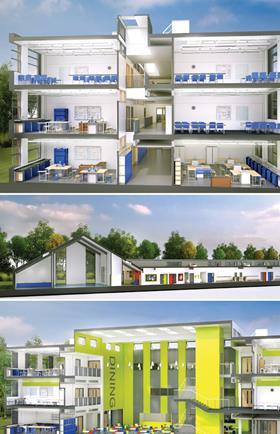 Wates, Morgan Sindall and Interserve have been shortlisted for the government's first batch of private finance schools, Building can reveal.
Building understands that Wates, Morgan Sindall and a partnership between Interserve and Kajima have been invited to bid for the £150m batch of private finance schools in the Hertfordshire, Luton and Reading area.
The government's schools capital agency issued a contract notice for the batch of seven new build secondary schools last month.
It is understood that around 10-12 firms bid for the batch, with three now chosen to go forward to the next stage.
The appointment of a preferred bidder is not expected until February next year.
The batch of schools is the first of five batches to be procured through the government's new Pf2 private finance initiative.
It will use a version of the PF2 model, called the "aggregator model", which will use an organisation to provide debt funding for all batches, rather than each batch having to secure its own funding.
The official contract notice issued by the EFA said contractors would be asked to design, build, finance and maintain the new build schools.
It said services required are "likely to include hard facilities management services and may also include some soft facilities services".
It said the term of the contract would include a 24 month construction phase and a 25 year operational term from the service commencement date of the final school to be completed in the batch.
The schools included in the batch are:
Bishop's Hatfield Girls' School, Hatfield, Herts
Goffs School, Cheshunt, Herts
Kings Langley School, Kings Langley, Herts
Longdean School, Hemel Hempstead, Herts
Reading Girls' School, Reading, Berks
Stopsley High School, Luton, Beds
Westfield Community Technology College, Watford, Herts
The EFA went out to tender on the £120m second batch of Pf2 schools, in the North-east of England last month.
The remaining three Pf2 batches are expected to be brought to market within the next 12 months. They comprise:
North-west (£93m, 12 schools)
Yorkshire (£97m, seven schools)
Midlands (£122m, eight schools)