One dead and three missing as part of Didcot A power station collapses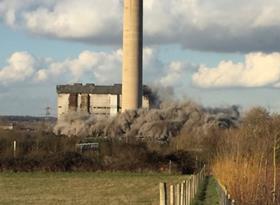 It is "highly unlikely" that three people missing in the Didcot power station collapse are alive, according to the local fire service.
A major search operation is underway after one person was killed and three reported missing after part of the power station in Oxfordshire collapsed yesterday.
Oxfordshire Fire and Rescue Service chief fire officer David Etheridge told journalists there had been "no signs of life detected" in the wreckage. Search and rescue teams have been using thermal imaging cameras, drones with audio sensing equipment and sniffer dogs but have not detected anything.
Demolition work had been taking place at the decommissioned Didcot A plant.
Five workers were taken to hospital after part of the boiler house at the Didcot A power station collapsed on Tuesday afternoon while preparation for demolition work was taking place.
More than 47 people were treated at the scene for dust inhalation but have since been discharged.
The power station was decommissioned in 2013 and demolition work has since been taking place by contractor Coleman and Company.
In a statement, Coleman and Company said: "It is with great sadness that we understand that there has been one fatality, five people have been taken to hospital and three people are currently missing and unaccounted for. Our thoughts are with the families of all those involved in this tragedy.
"We will provide updates as we receive them. We are working with the emergency services who are currently on site to locate those missing and understand the cause of this collapse."
The 300m long building was ten storeys high and was due to be demolished in the next few months.
In an update this morning, Simon Furlong, assistant chief fire officer at Oxfordshire Fire and Rescue Service, said at the scene: "The remainder of the building is very unsafe which is hampering the search. This is a very difficult situation with a very unstable structure.
"The safety of emergency service personnel has to remain our priority, while recognising how hard this must be for families waiting for news of loved ones overnight. Our sympathies are with them, and the family of the person who died here yesterday.
"An expert from Cheshire with similar experience is due on site today to advise on the search."
He added: "The police will be taking over control of the site as part of ongoing investigation but we are continuing working with fire services from Bucks, Hants and West Midlands, and this work may continue for several days."
A Health and Safety Executive investigation has also been launched.