Union Unite is 'last man standing' in High Court case set for 9 May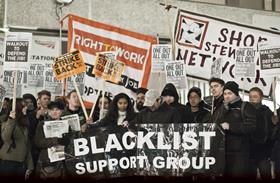 Three of four blacklisting victims groups that were pursuing major contractors for millions of pounds in compensation through the High Court have settled out of court.
In a statement eight of the contractors - Balfour Beatty, Carillion, Costain, Kier, Laing O'Rourke, Sir Robert McAlpine, Skanska UK and Vinci – collectively known as the Macfarlanes Defendants, said they had settled with victims represented by unions Ucatt and GMB and law firm Guney Clark and Ryan.
Workers represented by union Unite have not settled and are still set to take the case to the full hearing, scheduled for a week on Monday (9 May).
Howard Beckett, Unite director of legal services, said: "Unite is continuing to litigate on behalf of those construction workers whose lives were ruined by the 'blacklisting' scandal.
"Last October, the construction firms involved in blacklisting made an unprecedented admission of guilt and Unite intends to seek justice and compensation to the maximum extent on behalf of our members following those admissions."
Guney Clark and Ryan was working on behalf of the Blacklist Support Group. The Blacklist Support Group said: "It was the hard work and tenacity of rank & file activists that has brought [blacklisting] into the political discourse. What has already been achieved is a massive victory for the trade union movement but the fight is not over yet."
A spokesperson for the Macfarlanes Defendants said ahead of their statement this afternoon that 461 of 782 claimants had settled so far, while 84 had decided to withdraw their claims.
In addition, 355 people have claimed through The Construction Workers Compensation Scheme, a route set up by the Macfarlanes Defendants for victims who wanted to settle outside of the court process.
GMB and Ucatt confirmed they had settled in statements on their websites. Both said they could not comment further as the case is still ongoing.
Macfarlanes Defendants' full statement
Balfour Beatty, Carillion, Costain, Kier, Laing O'Rourke, Sir Robert McAlpine, Skanska UK and VINCI today announce that they have settled the litigation between them and individuals represented by UCATT, GMB and GCR regarding the activities of the Economic League and the Consulting Association.
In October 2015, these construction companies, unlike any other companies involved in the vetting system, openly acknowledged that the system was unlawful in various respects and made a full public apology, which was widely reported at the time.
UCATT, GMB and GCR have accepted this public apology.
The construction companies have offered financial settlements which all Claimants represented by UCATT, GMB and GCR have now accepted as fair and reasonable. The parties have also agreed a joint statement to be read in Court as part of this settlement.
These construction companies now wish to draw a line under this matter and continue to work together with the trade unions at national, regional and site level to ensure that the modern UK construction industry provides.