Manchester Airport Group appoints Galliford Try, Carillion and Bam Construct to £500m capital works framework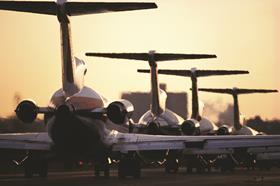 Galliford Try, Carillion and Bam Construct have won places on a £500m framework to provide capital works for Manchester and London Stansted airports.
The three firms have been appointed to Manchester Airports Group (MAG) capital delivery framework, potentially worth up to £500m over the next five years.
The framework will initially operate for three years with the option for two 12-month extensions.
The framework will cover all of MAG's capital delivery needs across its portfolio, which includes the airports of Manchester and London Stansted, as well as East Midlands and Bournemouth airports.
Andrew Cowan, chief operating officer for MAG, said: "The Group has doubled in sized this year with the acquisition of London Stansted and with a number of major projects due to get underway, we wanted to have a group of partners alongside us capable of delivering high-quality engineering and construction work so that we can continue to develop the business.
"We've also selected partners that are capable of covering the wide geographical footprint of our operations as we now have airports in London, the South, Midlands and the North of the country. "They are also experienced in the aviation sector and will get to use those skills across a wide array of assets including runways, terminals, car parks and our property portfolio. We need partners that share our vision and drive so we are pleased to have secured three companies of suitable scale to our framework roster."