Spurs ended their 118 years at White Hart Lane with a 2-1 win against Manchester United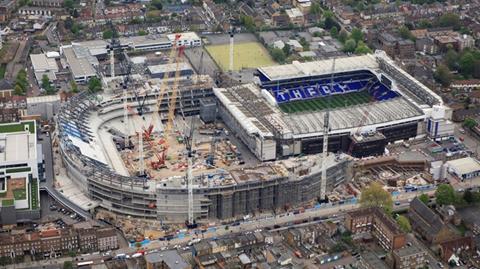 After 118 years Tottenham Hotspurs has moved out of its home at White Hart Lane, North London, to make way for bulldozers.
Club chair Daniel Levy formally handed over the keys to the old place to Mark Reynolds, chief executive of Mace, the main contractor for the project to build the new 61,559 seat stadium.
The last match played at the historic venue was on Sunday against Manchester United, which Spurs won 2-1.
Levy said it was both a "somber occasion" to be vacating White Hart Lane for a year but also marked "another historic milestone" in the club's stadium build progress.
The Premier League team has the good fortune to call Wembley its home-from-home where it will play its next season while construction takes place.
Mace now takes on full responsibility for the site and will start a 12-week programme to knock the old stadium down. This will start with the the North Stand before moving onto the South Stand, including demolition of the Spurs megastore.
Since it's inception the stadium's build costs have doubled to the £800m mark. When complete it will have nine floors as well as its own bakery and brewery.
The new stadium is expected to be completed by the start of the 2018/19 season in August.
Valuable and notable items – signage, old team shirts, trophies - have been placed in storage. Most of these will be put on display in the new stadium as part of the 'Tottenham Experience' attraction, auctioned in aid of the Tottenham Tribute Trust, or donated to local sports clubs and good causes.