Ongoing wranglings over compulsory purchase order delay move to new stadium by a season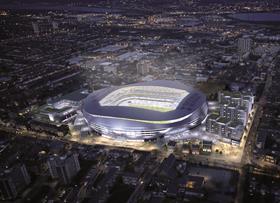 Tottenham Hotspur football club has confirmed the opening of its planned new 58,000-seat stadium has been delayed by a whole Premier League season due to a High Court legal challenge over its plans to buy up land for the project.
The government granted Tottenham a compulsory purchase order (CPO) to buy land at Northumberland Park for the stadium, but this CPO has now been challenged in the High Court by two landowners, Archway Steel Metal Works and the Josif Family.
Tottenham said it was awaiting notification of the earliest possible date for a High Court hearing on the challenge, but that the ongoing CPO process meant it was now "highly unlikely" the stadium will open until the start of the 2017/18 season.
The club said it had revised its £400m construction programme and Tottenham would now have to move away from its existing White Hart Lane stadium for one season, to start at the beginning of a season to comply with Premier League rules.
Tottenham said it was currently undertaking due dilligence on temporary alternative stadium options.
The club said it had "successfully and amicably relocated more than 70 businesses in the area to the satisfaction of all parties concerned".