M&E industry bodies set up new forum to discuss replacement reforms on pay and conditions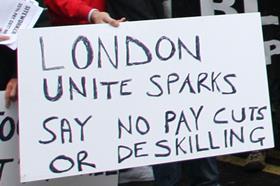 Five trade federations that were embroiled in one of the construction sector's largest industrial disputes for 15 years have agreed to re-enter talks on reform to pay and conditions.
The trade federations - which include the Building and Engineering Services Association (B&ES) - represent the M&E sector, which comprises over 4,000 firms turning over £9bn a year.
Proposals to reform the sector's working practices drawn up by B&ES, formerly the HVCA, were derailed after five months of protests by workers and the Unite union.
Action taken against the proposals - known as the Building Engineering Services National Agreement (BESNA) - included a 1,000-strong London rally, a sit-in at a contractor's headquarters and violent clashes with police.
BESNA was dumped by all seven contractors behind the reforms - including Balfour Beatty Engineering Services - in February.
Recommencement of talks between the trade federations ends a long-running public row between the organisations. Only the HVCA supported BESNA, while the Electrical Contractors' Association, the Association of Plumbing and Heating Contractors, SELECT and the Scottish and Northern Ireland Plumbing Employers' Federation were all opposed.
Now all five organisations have agreed to set up a forum to discuss pay reforms to replace BESNA, called the Industry Development Forum. They will also consult with contractors with a view to re-entering negotiations with Unite.