Regional body pushing for more cash to invest in roads and rail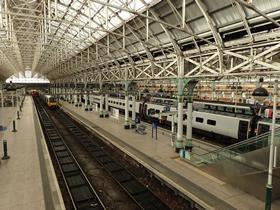 An updated plan has been unveiled for £70bn of infrastructure investment in the north of England.
In January 2018, days after it was formally created, Transport for the North (TfN) first recommended extra spending on programmes such as Northern Powerhouse Rail, major new roads and upgrades to the existing rail network over the following 30 years.
But now the body is set to formally advise the British government on its plan to spend an extra £50 per person in the north on transport every year until 2050.
The government has no obligation to heed its advice, but the regional transport body, funded by the Department for Transport, is an alliance of all 20 local transport authorities in the North, which together represent 15 million people.
TfN's plan, which has been consulted on and updated since last year, calls for better east-west connections, as well as better links to suburbs and airports.
It proposes a new hub at Manchester Piccadilly station (pictured) and faster and more frequent trains to Liverpool.
TfN says, if followed, the programme would add £100bn and 850,000 extra jobs to the north of England's economy over the next 30 years.
The plan still needs to be ratified by TfN's board on 7 February, afterwhich the plans will be formally launched on 11 February.