Patrick McLoughlin uses his Conservative party conference speech to launch defence of the £43bn high-speed rail project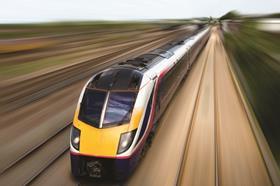 Transport secretary Patrick McLoughlin has used his Conservative party conference speech to launch a defence of the £43bn high-speed rail project.
McLoughlin said the line would be an "essential heart bypass for the clogged arteries of our transport system".
His speech follows continuing controversy over the project and the intervention of Labour shadow chancellor Ed Balls last week who said a future Labour government would consider whether funding for the route could be better spent elsewhere.
Mcloughlin said he was listening to critics of the scheme and that he would "squeeze every penny of economic benefit" out of the line and "cut down on costs".
However he added: "Our current rail system is almost full - there just isn't the space we need for the future. The truth is we need a new north-south line to make our country stronger.
"I represent a Derbyshire constituency and I am tired of the moaning from London commentators who are pleased enough about billions of essential investment in Crossrail but can't understand why the rest of the country needs great transport too."
McLoughlin also hailed the hiring of former Olympic Delivery Authority boss Sir David Higgins as chair of HS2 Ltd, the company established to build the rail line.
He said there was "literally no-one better for the job".
Mcloughlin also defended the coalition's track record on infrastructure investment, repeating George Osborne's pledge from the summer Spending Review that the government would triple the budget for major road schemes in the course of the next parliament.