Builders merchant has more than 4,000 HGVs on UK roads
Travis Perkins has announced it will cut 80% of carbon emissions from its fleet of vehicles by 2035 as part of a new set of net zero targets.
The UK's largest construction materials supplier said it would offset any remaining omissions from its fleet, which includes more than 4,000 HGVs.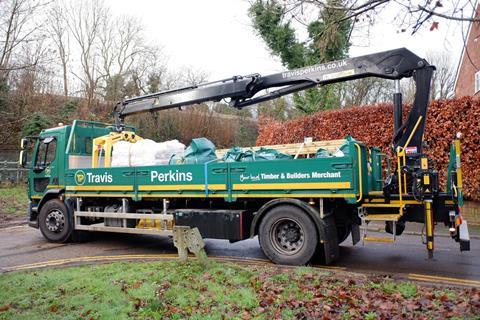 Road transport accounts for nearly 30% of all greenhouse gas emissions in the UK, according to government figures.
Travis Perkins' targets also include a 64% reduction of carbon from its supply chain by 2035, mostly applying to the purchasing of concrete products, bricks, bricks and plasterboard.
The builders merchant said it had already cut its direct emissions by 45% since 2013.
Its chief executive Nick Roberts said Travis Perkins is in a "unique position" to influence its supply chain and the wider UK construction industry.
The firm said it will publish a carbon reduction roadmap later this year which will outline milestones for making its fleet low and zero carbon, decarbonising its estate and commercial plans for tackling carbon in its supply chain.
The firm is due to release its interim results on 3 August.