The government has published a best practice guide to the delivery of large scale infrastructure projects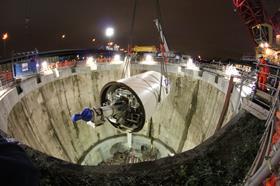 The 'toolkit', developed as part of the government's cost review programme and published today for consultation, is aimed at supporting public and private sector infrastructure providers' capability to improve the delivery of large scale projects and programmes.
Developed by Infrastructure UK in collaboration with industry and academics from the University of Leeds, the Infrastructure Procurement Routemap combines best practice tools and case study examples, such as Crossrail, in a bid to ensure that the common characteristics for effective project delivery are applied more consistently.
Lord Deighton, commercial secretary to the Treasury said: "This important work provides the private and public sector with the tools to assess capability at delivering complex infrastructure projects. Our goal is to ensure that programmes are delivered efficiently and represent the best value for money."
The consultation closes on 22 April 2013 and can be found here.
Key elements of the toolkit include:
Enabling the adoption of the common characteristics and behaviours associated with successful infrastructure project and programme delivery, including:
early visibility and commitment to the pipeline of programme opportunities or the specific project;
clearly articulated sponsor requirements adopting whole life principles linked to service outcomes that define the project or programme requirement;
effective governance, accountability and timely decision making;
early supplier engagement that engages all tiers of the supply chain;
effective use and structuring of standard contracts such as the NEC suite to align risk, reward and behaviours in an integrated supply chain;
appropriate incentivisation approaches that stimulate further integration of the supply chain; and
an environment that encourages innovation and departures from standards that embed cost and add no value to the outcome or safety.
A suite of assessment tools to enable sponsors, clients and the supply chain to align behaviours and identify capability gaps.
Pragmatic approaches to compliance with EU procurement legislation.
An ongoing role for industry leaders and experts in the infrastructure sector to identify, develop and disseminate best practice.