LOM practice salutes Brazilian-born architectural assistant who died after collision with coach
LOM Architecture and Design director Richard Hutchinson has spoken of the practice's devastation at the death of colleague Karla Roman, who died after her bicycle collided with a coach earlier this week.
Roman, aged 32, was on her way to work at LOM's offices in Shoreditch, east London, when the accident happened on Monday.
She was described as a highly talented designer who had worked with the Shoreditch-based practice on projects in the UK, Malta, the Middle East and Africa over the past two years.
Hutchinson said Roman was a vibrant and positive person who brought warmth and creativity to everything she did.
"We are all devastated by the loss of our friend and colleague," he said.
"Our thoughts are with Karla's family and friends in London, Italy and Brazil. Karla was a talented architect, a beautiful young woman and a very warm person.
"She rapidly became a key member of our team and had commenced on a promising career."
Hutchinson said Roman had worked on 13 projects for LOM since she joined the practice in March 2015, notably the Point Blank Music School in Hackney; a private house in Maresfield Gardens, Hampstead; the Queen Elizabeth Foundation for Disabled People, a brain injury rehabilitation centre in Surrey; and a community school in Ghana.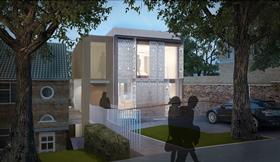 "She worked with a number of different clients and we have already received heartfelt condolences from clients she has been working closely with over recent weeks," he said.
"We all miss her and we are thinking of her family and [her boyfriend] Bart, here in London, in Italy and back in Brazil.
"We extend our sincere condolences to her family and will support them as best we can."
LOM said Roman had studied for and completed her professional exams in Italy and was in the process of gaining her UK accreditation, studying for her part III qualification at the Bartlett School of Architecture.