Morgan Sindall, Willmott Dixon and Midas are all chasing a deal to revamp one of Oxford university's libraries.
The trio are in the running to carry out the university's redevelopment of the Radcliffe Science Library (RSL).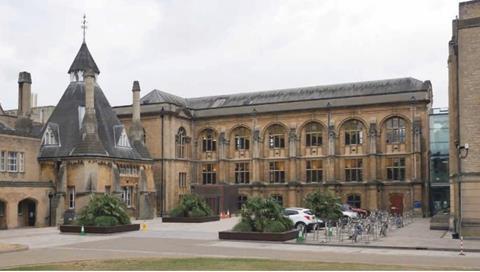 While Oxford is yet to put a value on the job, it is worth between £5m and £20m as the three firms are from its shortlisted suppliers for projects of that value.
They were appointed to the university's £1.5bn construction framework last year.
The building (pictured) includes the grade II-listed Jackson wing, built in 1901, the Worthington wing, built in 1934, and a large basement beneath the library's courtyard.
The redevelopment of the site will also include the adjoining buildings – the western wing of the Inorganic Chemistry Lab and Abbot's Kitchen and their connecting spaces.
As part of the project, the two-storey RSL basement will be converted into a teaching and research centre, which will have storage facilities for museum collections, as well as shared, flexible spaces for teaching and public engagement activities.
In addition, the new graduate society, known as Parks College, will be integrated into plans for the building.
Completion of the redevelopment is provisionally scheduled for the start of the 2021-22 academic year.
Last week Building revealed Laing O'Rourke had joined the race to build what Oxford university has dubbed its largest ever building project.
The country's biggest private contractor is up against Wates and Bam for the deal which is being procured under the university's capital projects partner framework. The project will involve building the university's new Life and Mind Building, which will replace the soon-to-be demolished Tinbergen building.