Laing O'Rourke joint venture to battle Carillion to build the UK's first PF2 funded hospital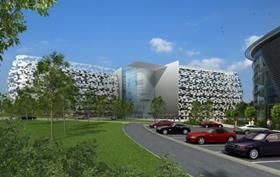 Two bidders have been shortlisted for the contract to build the UK's first hospital to be built under the government's revamped private finance initiative, with a joint venture between Laing O'Rourke and Interserve to battle it out with Carillion for the job.
The £380m PF2 hospital for Sandwell and West Birmingham Hospitals NHS Trust is set to be built on a brownfield site in Smethwick in the West Midlands.
The winning contractor will be required to design, construct and maintain the 80,000m2 hospital, which will include A&E, maternity, children's services, critical care, diagnostics and other acute treatment services.
Final bids are due to be entered in April 2015 with the preferred bidder selected in September 2015.