Exclusive: Claims against contractors Sir Robert McAlpine and Carillion could be combined into one action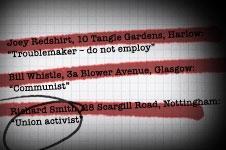 The two forthcoming legal actions on behalf of construction workers allegedly blacklisted by major contractors may be combined in a single High Court case.
Sir Robert McAlpine is currently facing a High Court claim from the Blacklist Support Group handled by solicitor Guney Clark & Ryan on behalf of 84 alleged victims while union the GMB is preparing a separate case handled by law firm Leigh Day & Co against Carillion.
Both cases are based on evidence contained in a blacklist database seized by watchdog the Information Commissioner's Office from the now-defunct Consulting Association (CA) in 2009.
It emerged this week that renowned QC Hugh Tomlinson - a founding member of Matrix Chambers who has previously represented victims of phone hacking by the News of the World - will represent both actions.
A source close to the legal cases said that there was "a prospect" that the two actions could now be combined, at the instigation of either the courts or the claimants.
In a separate development on Tuesday, former Carillion manager and whistleblower Alan Wainwright told the Scottish Affairs select committee - which is investigating blacklisting - that the firm was wrong to claim, in evidence to the commitee, that its then senior management were not aware of use of the CA database.
Wainwright is a former national labour manager for Carillion's then mechanical and electrical services business, Crown House Engineering.
Wainwright said that after meeting CA boss Ian Kerr in 1997, he was told to fax all future names to be checked against the CA database to the secretary of colleague Frank Duggan, the then group personnel director at the firm, which was known as Tarmac at the time.
Wainwright also alleged that the firm would mark its own list of names to keep a record of which workers the CA was advising against employing.
"That actually makes Carillion a data controller," he said.
A spokesperson for Carillion said it "rejected any suggestion" that it kept a separate database and stood by its previous written evidence that it had "very limited involvement" with the CA.
For more on blacklisting click here