Scheme insists it is genuine attempt to make amends as union boss Steve Murphy brands it a "travesty of justice"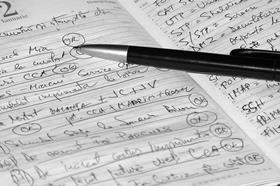 The nascent scheme for compensating victims of blacklisting has insisted it is a genuine attempt to resolve the dispute after construction union Ucatt branded it a "blatant attempt to gag" blacklisted workers.
Ucatt general secretary Steve Murphy called the Construction Workers Compensation Scheme a "complete travesty of justice", after key details of how it will work emerged.
These include:
• Compensation payments anticipated to start from a base level of £1,000 per person up to a maximum of £100,000 per person
• No admission of liability by the companies involved in the scheme
• Workers taking part required to drop all other legal claims
• Twin track approach, with fast-track offering workers fixed amounts depending on the information on their blacklisting file. A full review, intended for more serious cases and taking longer, would examine losses suffered by a worker
• No intention to hold hearings into blacklisted workers' claims and the majority of cases to be resolved on paper.
The scheme, which was announced last month, involves eight major contractors - Sir Robert McAlpine, Balfour Beatty, Carillion, Costain, Kier, Laing O'Rourke, Skanska and Vinci - all of which are currently facing a High Court claim on behalf of around 80 blacklisted workers brought by the law firm Guney Clark & Ryan.
It is being negotiated on behalf of the firms by former Acas chief executive John Taylor, who is seeking meetings with unions and other representatives of the workers including the Blacklist Support Group.
Murphy said: "The scheme is a complete travesty of justice. The companies involved in blacklisting and wrecking the lives of workers for decades are not even prepared to accept liability for their disgusting actions. They are trying to buy the silence of workers for as little as £1,000.
"The minimum that the blacklisted victims deserve is full compensation and a full public inquiry."
However, a spokesperson for The Construction Workers Compensation Scheme said it was designed "to provide affected workers with a genuine and preferable alternative to High Court action by removing many of the hurdles that would be faced through litigation and offering much faster access to compensation payments".
She added: "The levels of awards through the scheme are part of our on-going discussions with Ucatt, other workers' representatives and stakeholders.
"We are now embarking on a period of consultation with workers' representatives and other key stakeholders including the Blacklist Support Group and potential claimants' legal representatives.
"These are complex issues and we are committed to doing everything we can to ensure the success of the scheme in the interests of all parties."