Union accuses Sir Robert McAlpine of using public money to pay for checks on stadium workers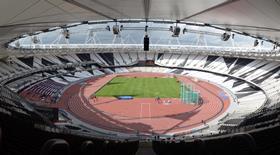 Thousands of workers applying to work on the 2012 Olympics were subject to blacklisting checks carried out by stadium contractor Sir Robert McAlpine and paid for with public money, it was alleged this week.
Giving evidence to Parliament's Scottish Affairs select committee, construction union Ucatt alleged that Sir Robert McAlpine's payments to blacklisting organisation the Consulting Association rocketed at precisely the time that stadium workers were being recruited.
The claim was seized upon by shadow business secretary Chuka Umunna who called it "incredibly serious" and pledged to question counterpart Vince Cable and culture secretary Maria Miller on it in Parliament.
"As a matter of urgency we need to get to the bottom of what happened," he added.
Blacklisting of construction workers came to light after the Information Commissioner seized a 3,200-name database in 2008 from the now defunct Consulting Association, which sold details of blacklisted workers to more than 40 construction firms. Sir Robert McAlpine is currently the target of a High Court action by dozens of workers who claim they were blacklisted by the contractor.
Ucatt general secretary Steve Murphy told the committee that in Q2 of 2008-2009 (July to September) Sir Robert McAlpine was invoiced a record £12,839.20 for blacklisting checks. A total of 5,836 individual checks were carried out during this quarter, according to Murphy.
He added: "In March 2008, the Olympic Delivery Authority (ODA) announced that work would start early on the Olympic stadium … with work starting in late May 2008. Therefore [Sir] Robert McAlpine's surge in blacklisting checks corresponds with the large scale recruitment on the building of the Olympic stadium. I would therefore suggest … that taxpayers' money meant to be spent on the building of the Olympic stadium was instead spent on blacklisting construction workers."
Senior Ucatt official Jim Kennedy told the committee that similar allegations by campaigner Dave Smith had not been taken seriously by the government.
"No-one wants to admit the biggest project in Europe was subject to industrial blacklisting," he said.
Kennedy also called on the committee to question Skanska, claiming it was the "biggest blacklister in the industry" in terms of paying the Consulting Association for checks, but had escaped any punishment.
A Sir Robert McAlpine spokesperson said it was "inappropriate to comment" due to ongoing legal proceedings.
An ODA spokesperson said: "We placed the welfare of workers at the heart of the London 2012 construction project from the outset, forming strong relationships with trade unions, including a site-wide agreement on minimum pay, health and safety and union recognition. As a responsible client we required companies to operate within the law at all times."
A spokesperson for Skanska said blacklisting was against its "values and behaviours". She added: "When the matter of the Consulting Association was brought to our attention, we co-operated fully with the investigation carried out by the UK Information Commissioner, which subsequently confirmed to us that no enforcement action need be taken against Skanska."