Spanish practice SMAR confirmed as victor in race for €25m Lithuania job
Manchester architect Simpson Haugh has been pipped in the contest to design a €25m (£22m) national science and innovation centre in Lithuania's second city of Kaunas.
The firm, which also has an office in London, was one of three shortlisted for the deal which will be built in time for Kaunas' year as European Capital of Culture in 2022.
SMAR Architecture Studio, which has studios in both Madrid and Australia, has been appointed to design the centre called Science Island.
Chinese firm Donghua Chen also missed out on the job which will be built at a 33ha island site in the city.
Close to 150 firms entered the competition which was launched two years ago and organised by Malcolm Reading Consultants.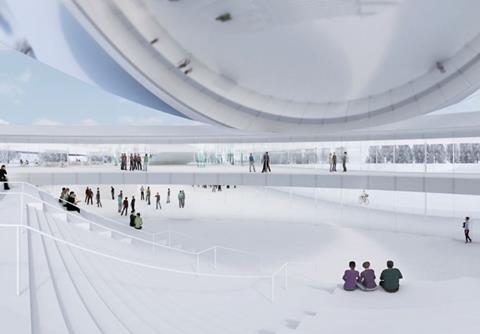 SMAR founder and creative director Fernando Jerez said the finished building would be an "invigorating experience" that drew new audiences to the city.
"Our proposal for Science Island follows the island's topography to find a deep connection with nature and with the city," he said.
"On the roof, circular access points will work as public stages and natural seating areas, our aim being that the museum spills into the landscape and the park comes into the building.
"The existing landscape gives shape to the innovation centre, which is topped by a sloping and reflecting upper disk: a landmark for the city. This will be a new sun for Kaunas, a bright, shining sun – evidence that science is always awake searching for new answers."
SMAR will collaborate with Lithuanian practice UAB Architektų biuras G. Natkevičius ir partneriai on the project.