Survey finds an 80% increase in the number of new schemes starting construction in UK's five main regional cities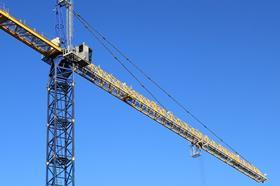 Development activity across the UK's five main regional cities has bounced back over the past year, with an 80% increase in the number of new schemes starting construction over the last 12 months compared to last year, a new report has found.
The latest UK Cities Crane Survey (see below), undertaken by Deloitte Real Estate, found that 45 new projects started construction across the five major regional UK cities – Birmingham, Manchester, Leeds, Edinburgh and Glasgow – over the year to July 2013, an increase of 80% on the previous year.
The news comes as the latest construction growth faltered in August, with a slight fall in output of 0.1% in August, though analysts said the overall picture remained one of recovery.
The crane survey includes major new build construction projects, including office and retail scheme over 10,000 sq ft and residential schemes over 25 units, as well as significant education, leisure and hotel schemes and comprehensive refurbishment projects.
The survey found Manchester recorded the most new project starts, with 19, including eight residential schemes, followed by Edinburgh, with nine project starts and Leeds with eight, Birmingham with five and Glasgow with four.
Only Birmingham showed a decline in activity year-on-year.
It said the new project starts were largely focused in the office, residential and student housing sectors, which account for nearly two thirds of the active schemes.
It said the commercial office market was on the cusp of a new development cycle with a total of 11 new office construction starts - the largest number of new starts in five years – comprising 837,000 sq ft of development.
The report said that while pre-leasing was the main driver of new office schemes, there were signs of a return of some speculative acidity, albeit at a much reduced level compared with that seen at the pre-recession peak.
Head of research at Deloitte Real Estate, Anthony Duggan said: "Compared to the less than positive story last year, our regional research now illustrates a rise in development activity, matching the recent improvement in the UK economy."
"The thrust of development activity this year sits with Manchester, Edinburgh and Glasgow, but the results are generally good news across the board with four out of five cities showing an increase in new starts compared to just one city in 2012.
"This increase in construction is unlikely to be a one-off. With an improving residential demand, supply shortages appearing in a number of the commercial property sectors and signs of increasing activity from investors in regional commercial real estate.
"It looks like we will see more development activity over the next 12 months."