Carillion and the 'Beast from the East' to blame, says Construction Products Association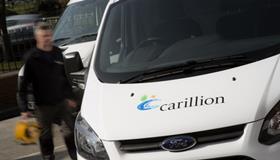 The double whammy of Carillion's collapse in January and bad weather sweeping across the UK in February and March will likely result in zero growth for the domestic construction industry this year, according to a new report.
Describing the start to 2018 as "inauspicious", the latest industry forecast from the Construction Products Association (CPA) said the second quarter was likely to see an upturn in activity but much would depend on how Carillion's liquidation hit sub-contractors and suppliers throughout the supply chain.
The demise of Carillion, which had nearly 11,700 subcontractors, combined with the wintry weather in February and March will lead to a poor first quarter of activity, although it said activity should pick up by the middle of the year.
The CPA said it expected overall output to remain flat in 2018 – 0.1% – and then rise by nearly 3% next year.
A rise in private housing and infrastructure activity is likely to be offset by a downturn in work across commercial, industrial and health sectors.
Private housing starts are predicted to grow by 2% in both 2018 and next year, while infrastructure work is likely to rise by 6.4% and then by more than double that in 2019, 13.1%.
But office work will fall by 20% this year and 10% in 2019, the CPA said, while retail construction will fall 10% this year but recover in 2019, posting growth of 5%.
Public sector work was likely to suffer from a lack of available finance and few projects ready to start.
"There appears to be little in the health pipeline to provide significant growth, while activity in education is expected to fall 5.5% this year, before edging upwards by 2.5% in 2019, despite the [second phase of the] publicly-funded Priority School Building Programme," the CPA added.