Boris Johnson announces first of promised 'barrage' of sanctions
UK firms were working out this afternoon what the impact of the government's promised threat of sanctions will be on their business in Russia after its president Vladimir Putin ordered troops into two rebel-held regions in eastern Ukraine overnight.
Earlier today, prime minister Boris Johnson imposed asset freezes on five major Russian banks and three high net worth individuals telling MPs in the House of Commons: "This is the first tranche, the first barrage of what we are prepared to do."
But UK businesses working in Russia contacted by Building said they were carrying on as normal for now.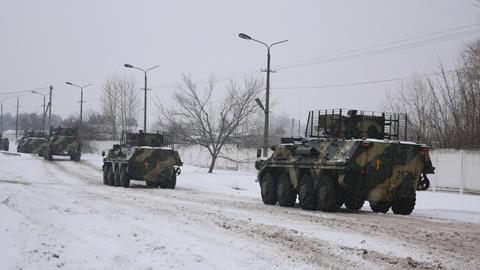 In a statement, Aecom, which has nearly 400, mainly local staff across two offices in Russia's capital Moscow and St Petersburg, said: "Our operations are currently unaffected and we are monitoring the situation closely."
Listed architect Aukett Swanke has been working in the country since the early 1990s and is currently designing an education and medical scheme at Skolkovo, on the outskirts of Moscow, masterplanned by Swiss architect Herzog & de Meuron.
Its chief executive Nicholas Thompson said it no longer has any directly employed staff in the country after striking a deal in 2019 to sell the business to a local firm – but continues to work there under a licencing agreement.
He added: "We're not affected by the sanctions announced today. It's something we're going to watch, especially if the sanctions list gets widened."
But Grimshaw Architects chairman Andrew Whalley admitted its work on the second phase of work at St Petersburg airport could come to "a rapid stop" because of the crisis. Speaking as part of a World Arichtecture 100 Live panel Whalley added: "I think you would be rather foolish to do anything there at the moment, the risk is too high."
Thompson said the biggest problem firms could face was if sanctions were ramped up to such an extent they began to affect the flow of money to and from Russia. "It would be an issue. Funds wouldn't be able to travel either way. But architecture is not really a controversial sector [for it to be covered by sanctions]."
Speaking on the same panel as Whalley, Jeremy Farrington, a principal at BDP, which is not currently working in Russia but has done before, said: "I'm sure we're not alone in our approach to this [but] when we entered into contracts with some of our Russian clients we negotiated some very specific clauses that dealt with that issue of if there were sanctions that were put in place at a geo-political level there were mechanisms in place for us to receive our funds, frankly speaking. And that's about all you can really do in these kinds of situations. The other way of course is to work with local partners in Russia, local consultants, and that's really important in terms of mitigating risk."
Simon Rawlinson, a partner at Arcadis, which does not have staff out in Russia, said the most immediate knock-on impact of the crisis would be on energy prices.
He said: "All everybody is going to be worried about at the moment is going to be around energy costs.
"We don't know yet whether what happened yesterday and today could end in a diplomatic approach or it could end in conflict. There is a huge amount of speculation out there so on that basis it is very difficult to try and extrapolate things from Ukraine to the UK."
But he added that one of the unexpected benefits of the crisis might be a glut of microchips. "Russia is highly dependent on the West for technology such as microchips," he said. "One of the great shortages that's affecting things in construction is microchips – presumably if the microchips don't go to Russia because of sanctions they will have to go somewhere else."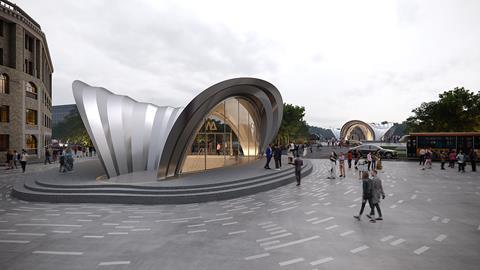 Meanwhile, Gleeds is one of the few UK consultants with an office in Ukraine's capital Kyiv.
The firm's country director, Colin Ross, who Building spoke to last week about the ongoing situation, said this afternoon: "Life goes on but tension has increased. [People in Ukraine] are waiting to see what the West does and how Putin reacts."
Another firm working out in Ukraine is Zaha Hadid Architects which has designed three stations for a metro scheme in Dnipro, a city in the middle of the country, with the job due to finish next year. The firm declined to comment on the current situation.