Growth of 0.3% dragged down by construction, which is worst performing sector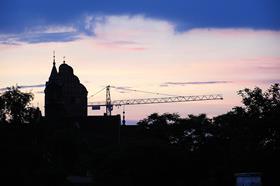 The UK has narrowly avoided a triple-dip recession, with the economy growing 0.3% in the first quarter of the year, but construction was the worst performing sector, declining by 2.5%.
The Office for National Statistics said the 0.3% growth in the first quarter of 2013 meant that the economy had been "broadly flat" over the last 18 months.
The growth in the economy was driven by 0.6% growth in the services sector, with a small rise (0.2%) in production, largely due to mining and quarrying.
But construction declined 2.5% in the first quarter, dragging down the economy by 0.17 percentage points. Construction output in the first quarter was down 5.9% on the Q1 2012.
The ONS said that at this stage the snowfall and cold weather during Q1 2013 appeared to have had a limited impact on GDP growth.
Economists cautioned that the ONS only has a limited amount of data for its first estimate of quarterly GDP growth, and that on average first estimates are revised by 0.4 percentage points.
Simon Rawlinson, head of strategic research at EC Harris said: "As a nation we can breathe a collective sigh of relief that the UK has avoided a third technical recession, but the reality remains that growth is exceptionally weak and there are currently very few levers available to drive confidence, investment and growth in the European Economies including the UK.
"Construction will continue to experience very weak demand whilst these conditions remain, particularly with a very tough Public Spending Review coming up. However, hopefully we will see the house building, industrial and perhaps commercial sectors start to see signs of recovery this year."
UKCG director Stephen Ratcliffe said: "The fall in construction output was not unexpected. Market conditions remain challenging, and as a lagging indicator construction would trail behind growth in the wider economy".