Morgan Sindall, Mace and Costain teams out of the running for massive Environment Agency flood defence job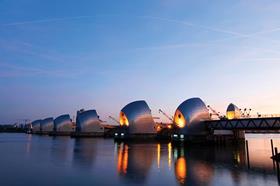 British firms have been dropped from the competition to build £485m of flood defences in the Thames Estuary.
The Environment Agency is seeking a firm to run the first phase of its Thames Estuary flood defence programme.
As Building revealed in February, five bidding teams had been shortlisted for the job, but now the Environment Agency has confirmed that UK firms Morgan Sindall, working in a joint venture with Grontmij; Mace, in joint venture with Volker Stevin; and Costain, working with Capita and URS, have been ruled out of the running.
Just two bidders, US firms Jacobs and CH2M Hill, are now left in the race.
The delivery partner contract, initially for seven years with the possibility of a three-year extension, is worth between £314m and £485m.
The job is one of the government's 40 priority national infrastructure projects, and involves flood prevention work covering the Tidal Thames from Teddington in west London, through to Sheerness and Shoeburyness in Kent and Essex.
The Environment Agency confirmed it had cut its shortlist to Jacobs and CH2M Hill, but said the project would involve UK firms in the supply chain.