UK firms good for 'muck shifting' but lack capability to build nuclear power statons says EDF boss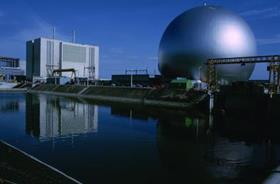 UK firms could miss out on major contracts to build EDF's new £10bn nuclear power station at Hinkley Point due to a lack of specialist expertise, the commercial director of the energy firm has said.
Speaking to the Guardian newspaper, Ken Owen, commercial director for nuclear new build at EDF Energy, said UK companies could miss out on the majority of specialist contracts to build the nuclear power station because of a dearth of hi-tech engineering skills.
Contracts for preparatory works, which Owen described as "muck shifting", have already gone to UK companies, while the main £2bn civils contract went to a joint venture between Bouygues and Laing O'Rourke, but more specialists contracts are likely to go to overseas firms, Owen said.
"There are a lot of critical components where quite frankly the UK has lost its capability. We don't mind that because we know there is capability from a global perspective.
"This is where the UK has got to upskill itself because of the constraints of manufacturing parts for nuclear. We need full traceability: where every little bit of material comes from, and documentation of it.
"We need to understand the documentation sign-off for every manufacturing stage. That is a huge challenge for UK industry because they have never made components for the nuclear industry to today's standards."
"There are 90 contracts to deliver the job, excluding the muck shifting and enabling work. Two - marine works and civils - are traditional UK [strengths]. The other 88, that's the world of manufacturing and erection," said Owen, previously commercial director of CLM, the private sector delivery partner of London 2012 Olympics.
An announcement is expected imminently on the result of long-running negotiations between EDF and the government over the price consumers will pay to subsidise electricity generated by the new reactors, as well as details of Chinese investment in the Hinkley project.
Yesterday, Building revealed that the construction timetable for the main civils programme has now slipped again, with contractors not expecting to start work until mid-2015.l
This story originally had an online poll connected to it which asked the question:
Do you agree that UK firms "lack the expertise" to build nuclear power stations?
The poll closed on 22 October 2013. To see the results click here.