Ucatt to stage demonstration outside Wates Group head offices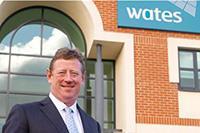 Construction workers' union Ucatt is to stage protests outside offices of contractor Wates after alleging workers on Wates sites in London are being paid under the capital's living wage..]
The union is planning to stage protests tomorrow outside Wates head office in Leatherhead as well as its London HQ in Victoria.
The union said workers were being paid "as little as £7 an hour", despite the London Living Wage being £9.40 an hour.
It is understood the allegations, which Wates has not specifically denied, are likely to relate primarily to labourers working for subcontractors on sites at which Wates is the main contractor.
There is no legal requirement to pay the Living Wage, which is set independently by academics at a level judged to be necessary to live in the capital. Chancellor George Osborne's national living wage, which will initially be set at £7.20, does not come into force until April 2016.
Jerry Swain, regional secretary of UCATT's London and South East Region, said: "It is sickening that the directors of Wates are profiting by paying a pittance to construction workers on their sites. Poverty pay creates misery and resentment throughout the industry.
"Wates must clearly know that poverty wages are being paid on their sites. If Wates don't commit to paying the London Living Wage, we will start targeting the premises of their clients in the new year."
A spokesperson for the Wates Group said: "We are aware of the intended demonstrations by UCATT outside our offices on Tuesday 8 December. As a family-owned business, Wates is committed to the wellbeing of its employees and those of our suppliers and subcontractors and we are working in partnership with our supply chain to address the issues raised [by the protest]."