Development of 1,000 bed scheme set to open in 2020 academic year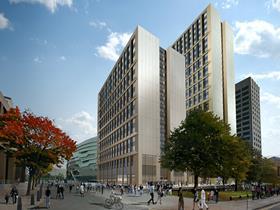 Unite Students has acquired a site in Leeds city centre to develop accommodation housing 1,000 beds.
It will cost £80m to build and is located near the University of Leeds and Leeds Beckett University. It is scheduled to open for the 2020 academic year, subject to planning approvals.
The site would increase Unite's portfolio in Leeds to 4,470 beds and serving a student population of 58,000. It has 1,200 beds subject to nominations agreements with universities in Leeds.
Richard Simpson, group property director at Unite Students, said: "Leeds is a strong performing market with two high quality universities.
"Unite has maintained a 99% occupancy rate in the city over the past five years, signalling we have room to expand and there is demand for the quality, affordable student accommodation we provide."