Jobs are part of a wider £500m estates programme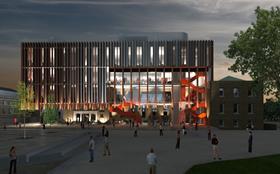 Two developments at the University of Leicester that are part of its £500m estates investment programme have received the go-ahead.
One of the projects is at the university's Brookfield campus on London Road, where a significant renovation scheme will create a new home for its School of Business.
The historic 19th Century Brookfield House is at the heart of the London Road site. It was once home of Thomas Fielding Johnson, an original benefactor of the University.
The original house and stable blocks will receive a comprehensive renovation and upgrade. The university will also redevelop an extension to the main building to provide a brand new lecture theatre and seminar rooms, alongside a full scheme of landscape improvements.
The second project to receive planning approval is at the university's central campus and will see the transformation and expansion of the Percy Gee building (pictured), which houses the Students' Union.
The new expansion will house a food court, social learning and multi-use facilities. The new eastern façade will establish a direct link between the atria space and the newly completed Fielding Johnson Square.
Construction is due to begin in March and April, with contractors still to be announced.
Both schemes were designed by London-based practice Shepheard Epstein Hunte, which also designed the university's Oadly Campus, Percy Gee East Wing and Stamford Court Conference Centre.