University to develop city centre site owned by house builders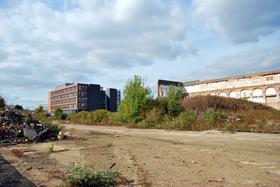 The University of Northampton is set to develop a £330m campus in the town centre after it reached a deal for the land with house builders Persimmon and Taylor Wimpey.
The 20-hectare site at Avon Nunn Mills, which has been largely derelict for over a decade, is owned by the house builders and Avon Cosmetics.
Under the deal, the house builders will continue to develop alternative plans for a mixed-use scheme which will be built if the university's plans do not come to fruition.
Nick Petford, vice chancellor of The University of Northampton, said: "This new Waterside Campus will place us in the heart of the community. It is a hugely exciting project with an investment of more than £330m. If it progresses as we hope, we could be moving in to start ground work in 2015, with the campus opening sometime between 2018 and 2020."